Solid Brass Hardware
Why solid brass hardware?
We use solid brass hardware on all of our products. Our solid Brass hardware is Canadian sourced.
Solid brass does not chip, rust, or corrode, and it's extremely strong.
Solid brass is ideal for dog gear. It's solid all the way through, meaning it is not plated so no chipping of an outside finish/color.
It's an excellent choice as it's strong and provides more 'flex' than other materials, which may crack, making it less susceptible to breaking under force. Perfect for strong pullers.
How to care for solid brass:
Solid brass can head on all the adventures your pup wants to go on whether that's in salt water, mud puddles, or a walk in the city. It's resistant to rust and corrosion. Solid brass will however patina over time. Patina appears as a dulling of the brass. You many notice some patina (greyish appearance) on lighter coloured biothane in the area of the hardware over time. Patina can discolour light coloured dog fur so this should be taken into consideration. Patina can be removed with washing, it just requires a bit of upkeep on lighter colored fur.
To care for solid brass, wash with soap and water. To remove patina and restore shine mix a paste of lemon juice and baking soda and scrub onto hardware, let sit a minute, then rinse off.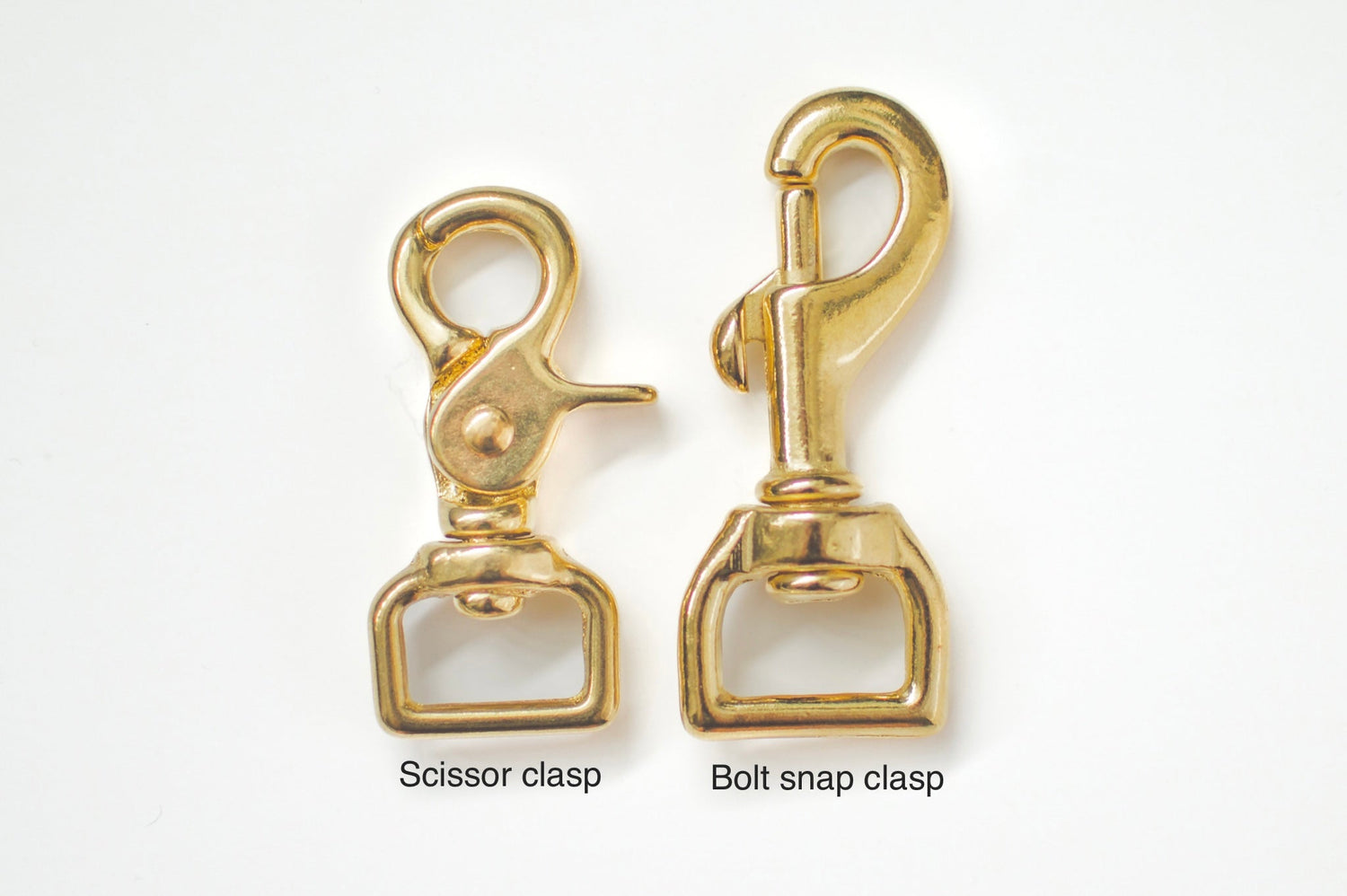 Types of Clasps
You can choose a scissor clasp or a bolt snap clasp for your leash.
Bolt snap clasps are traditional and functional and are ideal for heavy pullers.
Scissor clasps are a bit smaller in size and are ideal if you plan on taking your leash to the beach, or in the snow. Scissor clasps don't get stuck with sand or snow. Scissor clasps should not be used with extreme pullers.